Bridal bouquets are the most photographed floral arrangement at a wedding. But with so many variations in silhouettes, it can seem overwhelming to choose one that fits your personality and style. To help, we've listed each of our bouquet options below along with examples and some styling ideas.
Please keep in mind that these are only our suggestions, however it's your day and your bouquet should fit your personality and vision. We're more than happy to go over other options + ideas with you in our consultation.
Cascade Bouquet
The Cascade Bouquet is essentially a bouquet and a half. It's a dramatic option with exaggerated forward drape that tapers down in front.
Looks great with: Ballgown or A-line silhouette
Bespoke Bouquet
The Bespoke Bridal Bouquet is our made-to-order bouquet. It has the most flexibility in terms of shape + style and is our most popular option. Here are a few examples of styles to consider:
Upright Asymmetrical: the classic bespoke bouquet shape. Lush, big, great for any style and our most popular design.
Round with Forward Drape: evenly shaped all around with some larger pieces draping in the front. Think a less-structured, wilder cascade bouquet.
Heart-Shaped: Shallow front to back and wider left to right. Big and romantic!
Wild + Open: May include elements that elongate the bouquet on either side (such as pampas grass, fern, etc). This is great if you are having a boho-themed wedding and want your bouquet to feel wild and organic.
There is a ton of variety in bespoke bouquets and we will work with you in our consultation to find the best fit for you!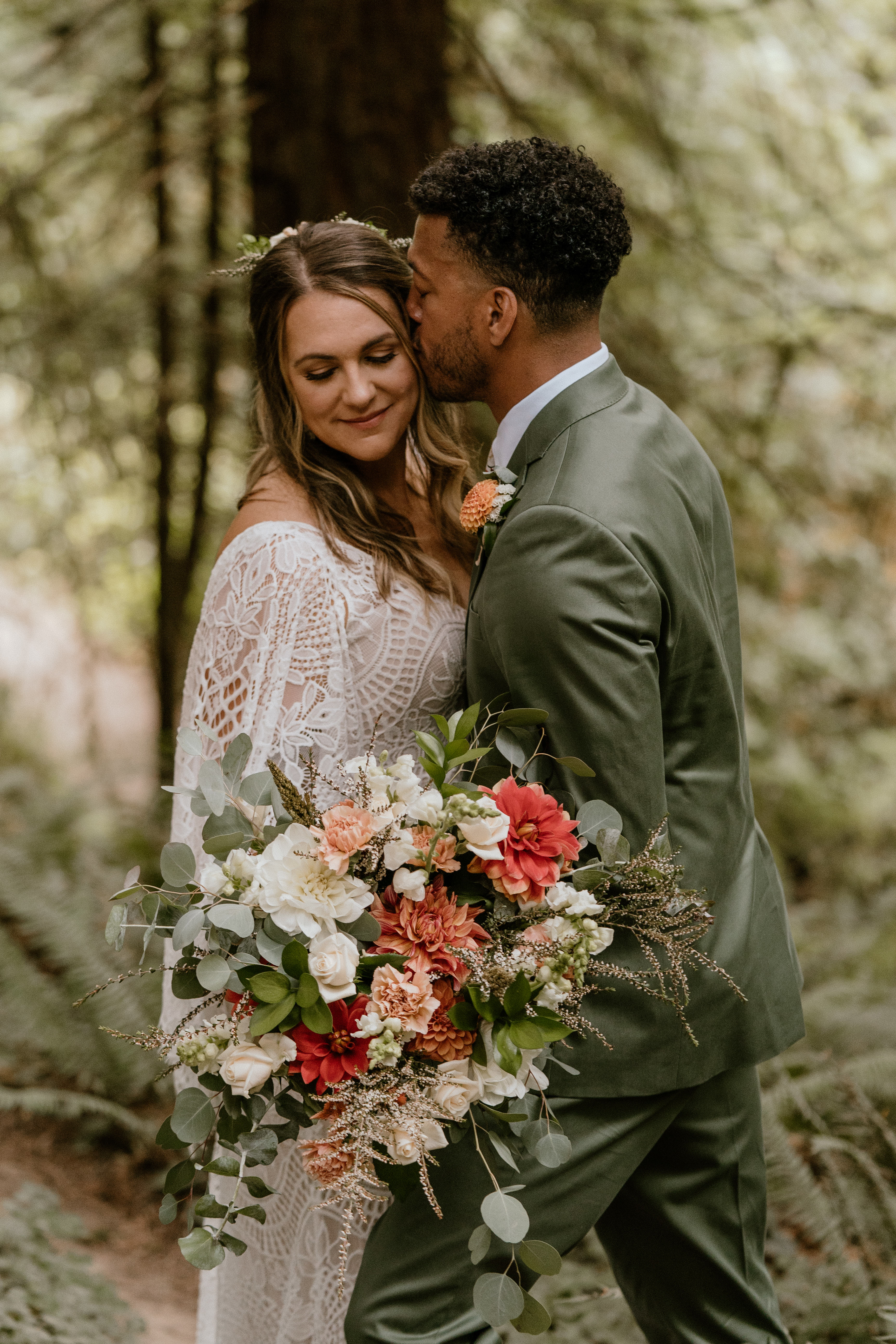 Presentation Style Bouquet
This bouquet is an elongated silhouette that is meant to be held to one side (think pageant style). We love this unique style – it's the perfect option if you want a bouquet that will showcase your flowers and special elements of your dress at the same time.
Consider this if: you are wearing a unique dress that has important details you don't want to be missed or if you want a different twist on the traditional bridal bouquet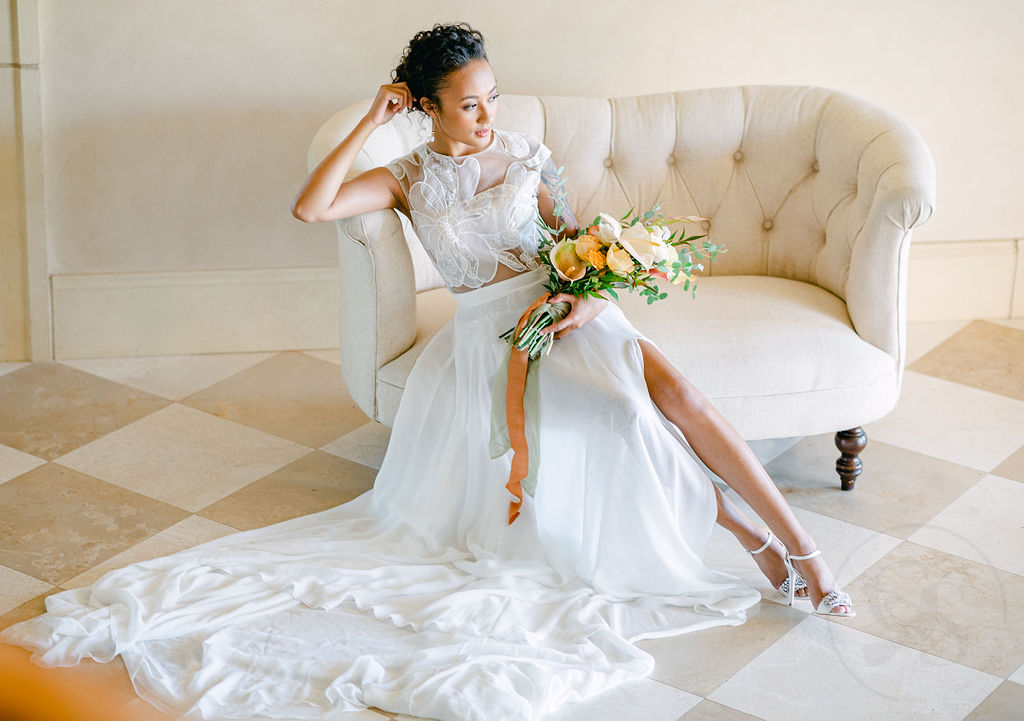 Hand Tie Bouquet
Our Hand-Tie Bouquets are the easiest of our options to carry as they don't have a front or back and are the same size in all directions. All the flowers + foliage are above your hands and you have the option to go with a more reserved silhouette with a lot of texture or make it wilder to fit your style.
Looks great with: Any style!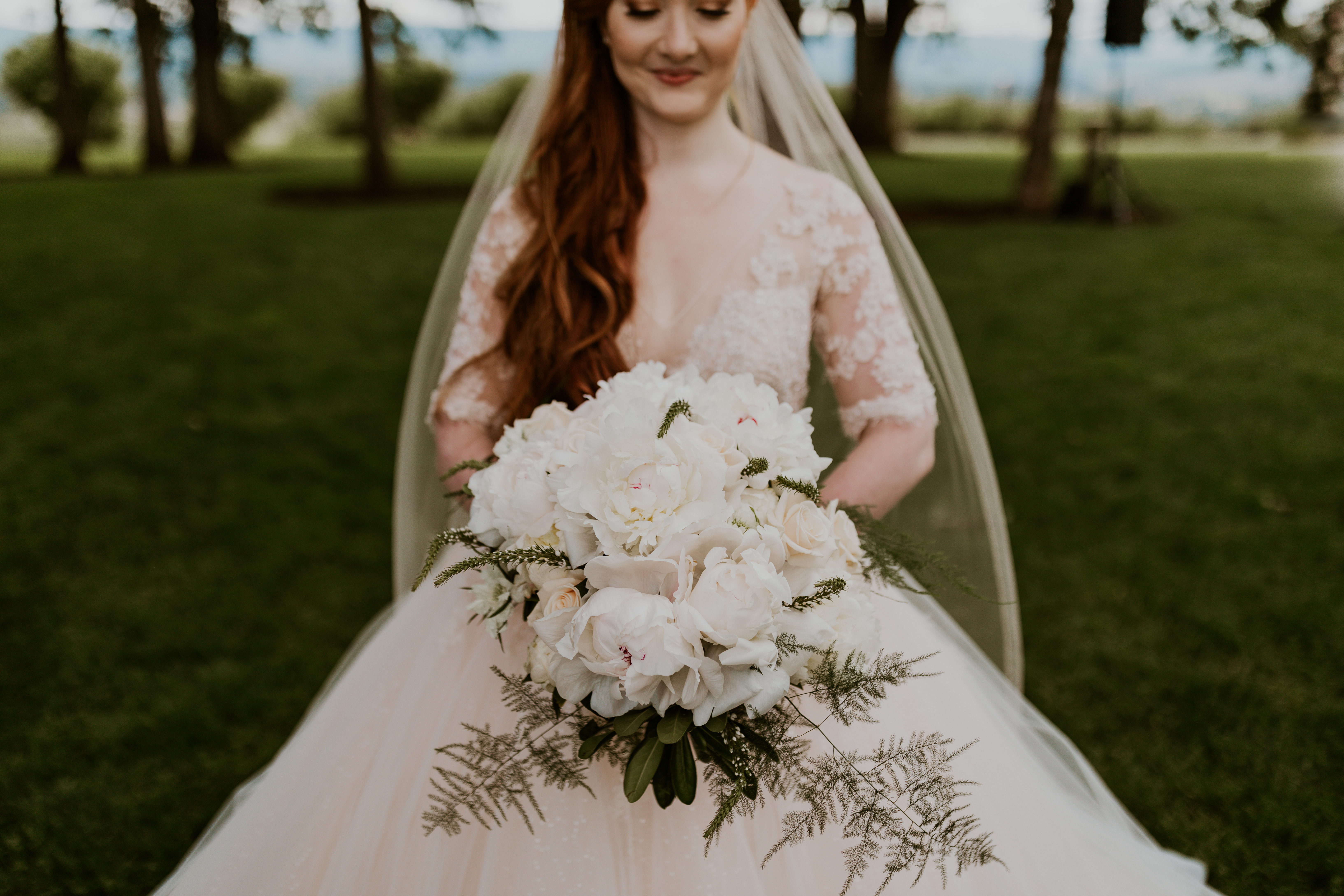 Polished Round
The polished round is our most traditional style. It's a sculpted round shape with minimal to no greenery. It also does not have a front or back. Great for couples who want a traditional, simple look.
Consider this if you: want a traditional look or if your theme is black-tie affair or romantic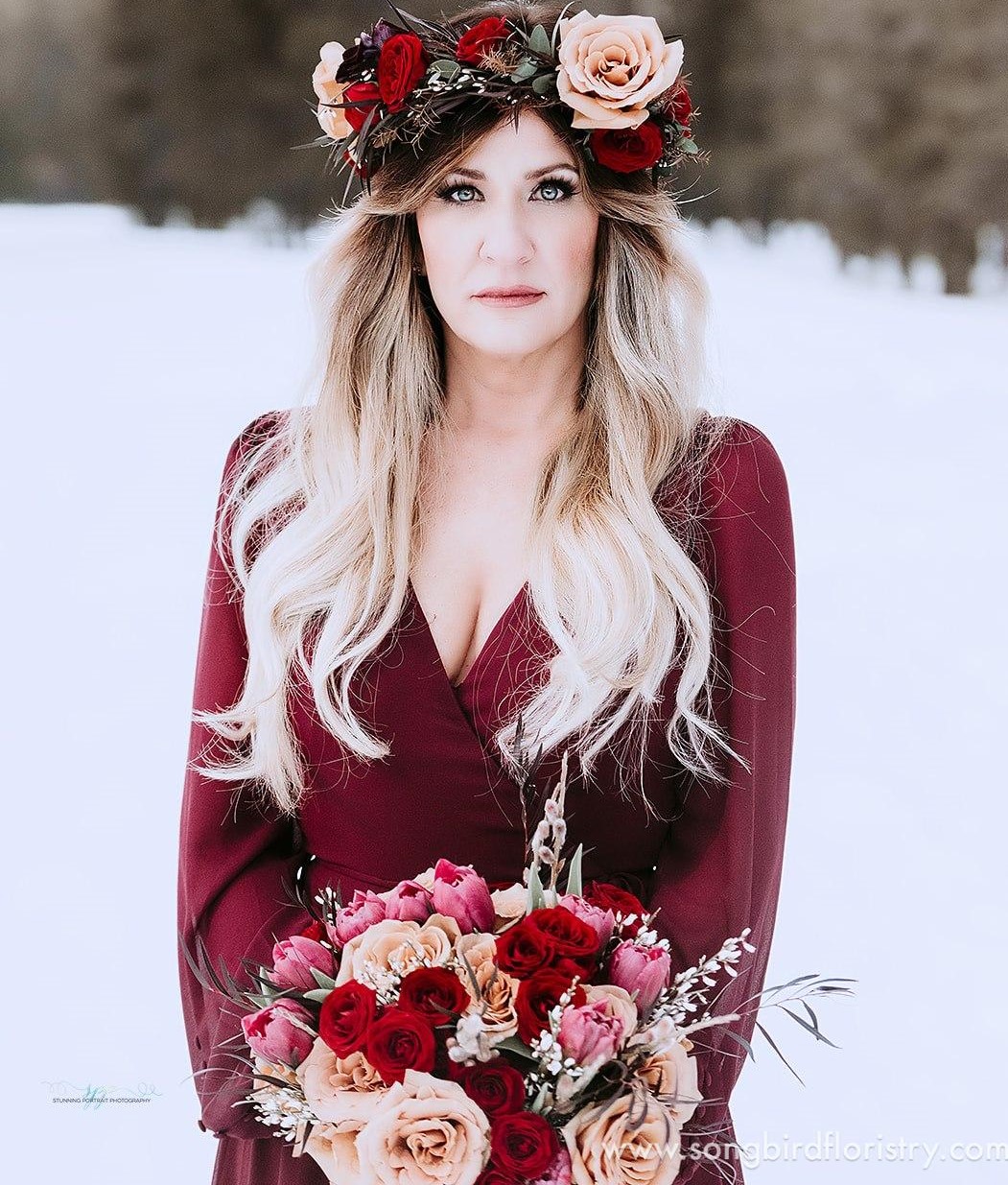 ---
A few other things to consider
Ribbon
The standard wrap for our bouquets is satin ribbon in a tight wrap. However, we are able to do a trailing ribbon upon request if that is your preference. Additionally, if you have a different ribbon you'd like to supply, you may drop it off at our studio or we can secure it when we arrive at your venue.
For ribbon color, we suggest a neutral color such as champagne, ivory, or grey so it doesn't take away from the arrangement and allows the blooms to pop! However, if you have a bold color palette or there are certain colors you want showcased that are unavailable in your flowers (ex: teal or navy blue) then we are happy to discuss other options.
Best of Both Worlds
Get the best of both worlds by opting for a larger, editorial-style bouquet (bespoke, cascade, or presentation style) for first-look photos + portraits and add a smaller bouquet (hand-tie or polished round) to carry down the aisle. This way you will have gorgeous, publication-worthy photos without worrying which way the bouquet is held as you walk down the aisle.
Repurposing your Bouquet
Our bridal bouquets feature the most premium and special blooms and we often have couples who want to showcase the arrangement after the ceremony. This is a great option for guests to get a close look at your beautiful flowers and give the blooms another area to shine.
When deciding where to display your bouquet, we recommend placing it on a table where people won't be sitting as it can obstruct your view when it's in the vase. Consider putting it on the cake or dessert table, the bar, or a side table next to the sweetheart or head table.
Alternatively, if you have an arrangement or décor at the base of the sweetheart table, that is another great spot for the bouquet to sit in its vase.
Additional Arrangements
If your order includes more than a bridal bouquet (boutonnieres, bridesmaids' bouquets, installations, etc.) then you'll notice that we strive for continuity between all arrangements. This helps set a common tone throughout the décor. Check out our other blog posts and our planning tool for more ideas!