Wedding trends are constantly evolving. The Covid Era is making the Micro Wedding the choice of many couples. It is lower risk from both a financial and health perspective, and just as importantly, is a really lovely way to have a wedding.I love events of all sizes, and after finishing the 2020 season of primarily micro weddings, I can say, I LOVE serving smaller events. There is a completely different energy when I walk on site to set up a small wedding. Everyone is much more relaxed than is the norm at larger gatherings, and the ease of the day feels like a gentle breeze. This doesn't mean there's a shortage of excitement, or even jitters, but the pressure to host a crowd of friends and family, many the couple may not know well, just isn't there.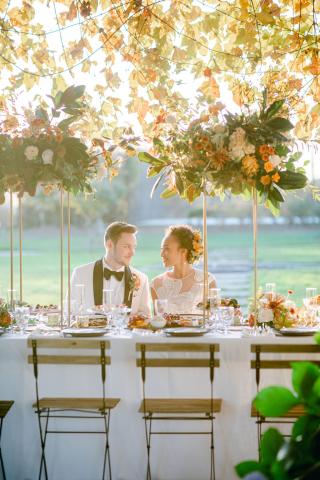 There are some considerations when planning flowers for a micro wedding:
Budget allocation: Some flower-loving couples end up doing more floral decoration than they otherwise could, since they're not buying dinner for an extra 100 people (that adds up!). Others opt for a micro wedding as a cost-saving strategy, and order only a few floral items that are most important to them. Our planning tool allows you the flexibility to choose only the items you really want. If you're not sure, you can start minimally then upgrade or add to your order closer to the big day as needed.
Photography: A professional wedding photographer has incredible value for capturing your wedding. Fewer guests to greet means more flexibility in how you enjoy the event, and potentially more time to capture special photos. Floral can really enhance your photos and even create a completely transcendent editorial setting for inspiring bridal magazine quality images.
As you think through prioritizing various floral design, here are a few ideas for big impact, regardless of your guest count:
Ceremony decor - custom archway, chandelier, or staircase florals can serve as an anchor for your entire theme and create a beautiful backdrop throughout your event.
King's table - with more intimate gatherings, seating at one large table is a great option. We can use garland, a traditional centerpiece, or a creative combination of floral pieces to create height and texture for a perfectly customized experience.
The bridal bouquet - it almost doesn't need to be said, but this will be the most photographed item in your wedding.
We are always excited to provide additional ideas and pricing based on your specific event details. Please email or call us for your free consultation.
Images by Chantal Sokhorn